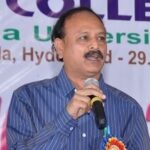 Dr. O.S Reddy, M.Sc., M.Phil Ph.D., , CHAIRMAN , Our distinguished Chairman, is Alumni of the Osmania University and much experienced in matters relating to academics. He is yester year's Principal of Jagruti Degree & P.G. College and Now Chairman of Jagruti Institute of Engineering & Technology. He is also associated with a number of other social organizations. He is committed to the cause of higher education. Besides this, he is also an ardent lover of sports and constantly looks in to this aspect inspiring & motivating student in extracurricular activities like sports & games.
The management is committed
To facilitate effective student learning – knowledge, skills, and values – and to promote use of that knowledge in the student's work place.
To develop competence in communication, critical thinking, collaboration, and information utilization, together with a commitment to lifelong learning for enhancement of students' opportunities for career success.
To provide instruction that bridges the gap between theory and practice through faculty members who bring to their classroom not only advanced academic preparation, but also the skills that come from the current practice of their professions.
To use technology to create effective modes and means of instruction that expand access to learning resources and that enhance collaboration and communication for improved student learning.
To assess student learning and use assessment data to improve the teaching/learning system, curriculum, instruction, learning resources, counseling and student services.
To be organized in order to foster a spirit of innovation that focuses on providing academic quality, service, excellence, and convenience.